Events
Luxury Concert: I'm in Love 7 & 8.3.2017
LUXURY CONCERT "I'M IN LOVE"
Artist: Minh Tuyet, Bang Kieu, Le Quyen
Time: 20h00 – 07/03 & 08/03/2017
Venue: 2nd Floor Melia Hotel Hanoi
Hotline: 01628.599.599 – 043.7195.999
"Women are meant to be loved" – The romance concert with wine party will take place at 20h00 in March 7th and March 8th 2017, on 2nd Floor Melia Hotel Hanoi.
Bang Kieu participates in the role of music editor as well as artistic director. Bang Kieu, Minh Tuyet and Le Quyen will bring to the audience many famous love songs.
This is a special gift from Bang Kieu – Minh Tuyet – Le Quyen in Women's Day to their fans in Hanoi.
Luxury Concert "I'm in Love" is a music party with beautiful melodies, immortal love songs and many celebreties. It will certainly give you many different feelings.
The venue of the concert is in Melia Hotel Hanoi at 44A Ly Thuong Kiet Street, with a modern and luxury space. This music space will help artists closer to the audience and make them tell the stories of life in the easy and unfolded way.
Luxury Concert "I'm in Love" is producted by HP Entertainment (Vietnamshow), IB Group and Vietmusic, arranged by Pham Hoang Giang – famous director with many successful concerts.
It will be an unforgetable concert!
SEAT MAP AND TICKET PRICES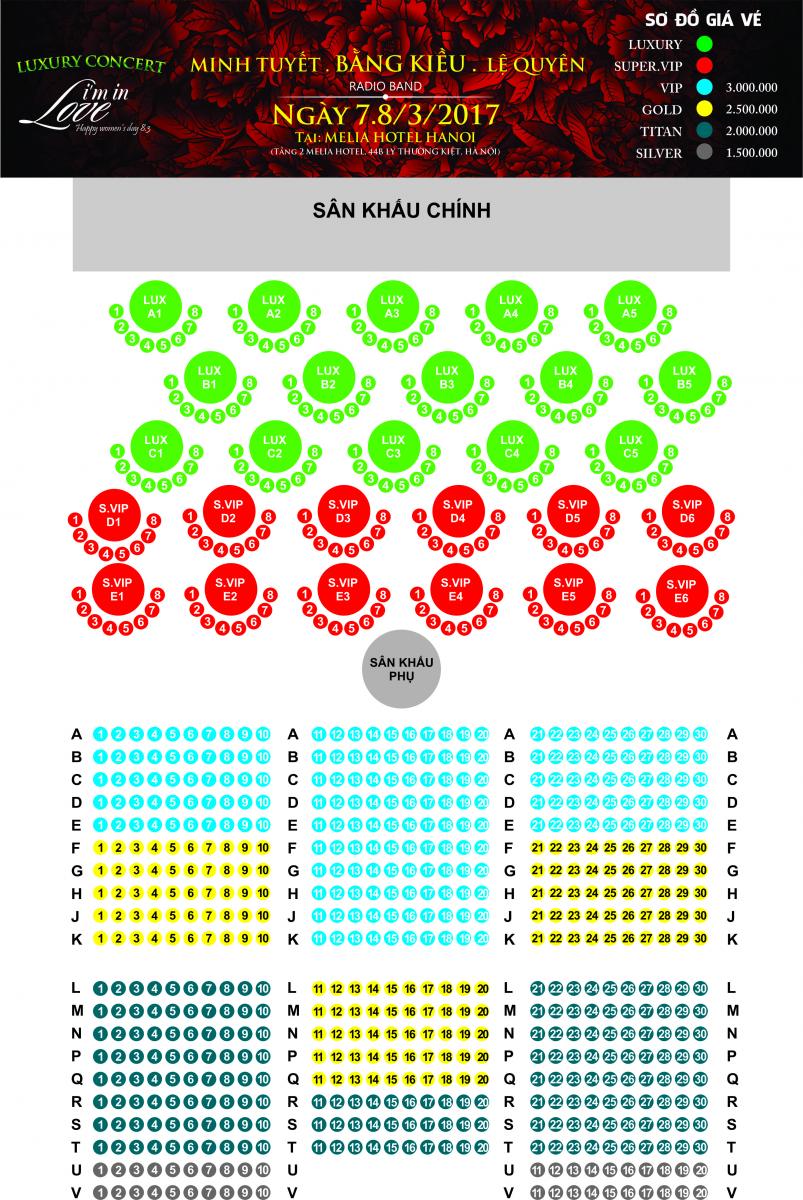 Spectators purchased tickets please call:
Hotline: 01628.599.599 – 043.7195.999
Or purchase tickets online:
Note: Tickets to attend just for 1 person and without children, we wish you a punctual attendance and wearing casual attire to attend the program. Thank you very much!
Related Post