Events
"Love Night" Live Concert
"Love Night" Live Concert
Artists in this concert are the overseas singers from Thuy Nga Paris By Night: Bang Kieu, Minh Tuyet, Lam Anh, Nhu Loan, Toc Tien, Mai Tien Dung and Nguyen Cao Ky Duyen.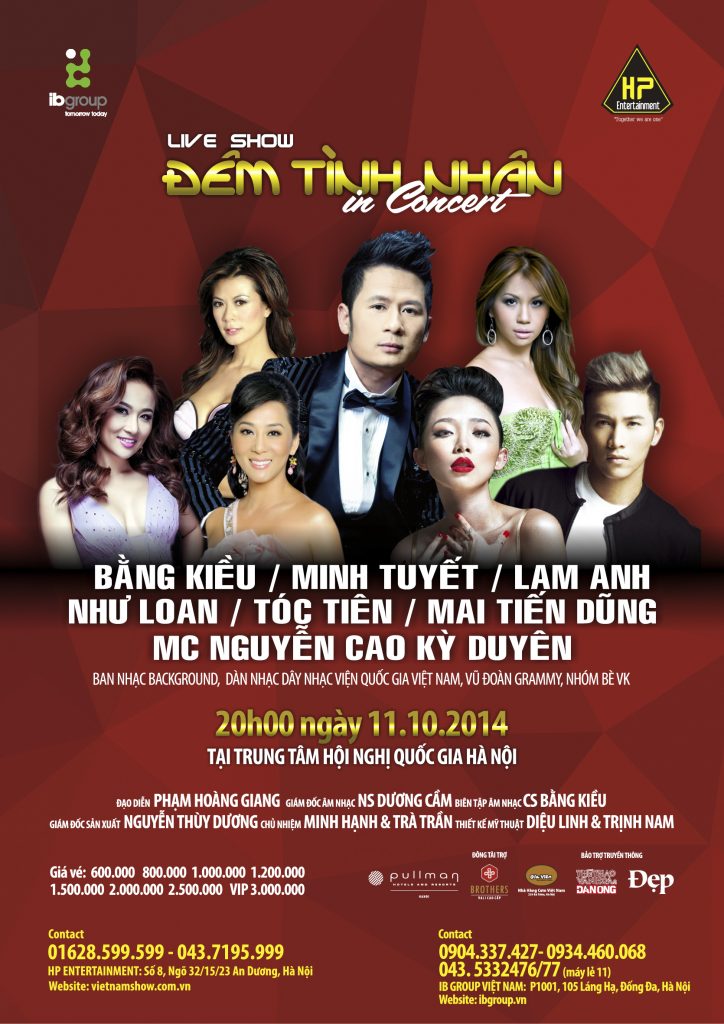 Time: 20h00 October 11th 2014
Venue: National Convention Center
Producted and ticket issued by HP Entertainment, IB Group
website: https://vietnamshow.com.vn
Ticket Issuing: September 10th 2014
Hotline: 01628.599.599 – 043.7195.999
The highlight of the concert is the participation of Bang Kieu and many famous beautiful singers who are called "Bang Kieu's Lovers". They will perform many everlasting romance songs like:
Where the love begins – Nơi tình yêu bắt đầu
Apologize – Xin lỗi anh
Faint Love – Yêu thương mong manh
Used to love – Như đã dấu yêu
…….
There are many duets that have not been performed on any music stage and they will take place in Liveshow "Love Night".
This will be a liveshow with the presence of many young singers with distinctive voices: Lam Anh with the soft soprano voice; Nhu Loan with tormenting and emotional voice; Toc Tien with modern and sexy performance style; potential young singer Mai Tien Dung.
The night will be extremely special because of the presence of beautiful, charming MC Nguyen Cao Ky Duyen, the one who will connect the concert to the audience.
The music space is made of brilliant light, like a story about the feelings in love. The sound system is harmonious, the stage system is elaborately and impressively designed to create an impressive and romantic night.
LiveShow will give the audience a luxury, classy and full of romance night.
Seat map and book ticket online – TICKET DELIVERY
Related Post